| | |
| --- | --- |
| | EVERYONE HAS A RIGHT TO THIS CITY! |
SAMSTAG IN DER STADT / SATURDAY IN TOWN
Samstag´s approach is severalfold: it reminds people of their right to the city and supports them to make use of this right in a low-threshold process. It uses public space to make the cultural variety visible as far as possible, it invites to communicate and to get curious about the other/s. By being involved in the design of the "Samstag in der Stadt" events, and therefore involved in what happens, people might get a sense of ownership, of personal investment and of participation.
We provide the infrastructure and collect ideas, needs and wishes of the most diverse participating audiences and, in collaboration with artists and experts, transform them into events, workshops, discussions or simply into qualitative time spent together. "Samstag" also aims to support – by its intervention – the revitalization of "dead" places, especially of market areas.
About the Schwendermarket
The Schwendermarkt is a neglected market place located in the 15th district, the district with the lowest income and the highest percentage of immigrant population in Vienna. The once big and important market place, now reduced to a minimum of size and appeal, is located in a neighbourhood, where more than 160 languages are spoken, the shops change their stock during Ramadan and Saris are worn. This is where we started the project "Samstag in der Stadt" ("Saturday in Town").
Samstag initiated by:
Nadia Prauhart
Studies of Romanic Languages in Vienna and Barcelona. 1994 birth of son Luca. Since 2000 staff-member of the Austrian Institute of Ecology, responsible for realization and coordination of international projects on educational and youth research, sustainable development, and participation. Concept, curation, organization and realization of "Samstag" (Vienna 1999-2001). Since 2010 conception and realization of SAMSTAG IN DER STADT/SATURDAY IN TOWN.
Tamara Schwarzmayr
Studies of Comparative Literature and Romanic Languages in Vienna and Lisbon, Brazil, and Chile. Since the early 1990s working in arts and culture projects, among others as project developer and manager for Linz 2009, European Capital of Culture, in the fields of migration, community building and neighbourhood-culture. Projects in public space: "Samstag" (Vienna 1999-2001), "My perfect street" (Tokyo 2008) and SAMSTAG IN DER STADT (from 2010).
2008-2009: School for artistic photography/Friedl Kubelka, since 2011
studies in International Development. 2015 birth of son Oskar.

****************************
PAST PROJECTS:
MY PERFECT STREET, TOKYO 2008

This participative and playful project was realized in 2008 in Tokyo. After some weeks of urban research and taking pictures of various neighbourhoods in Tokyo, residents were invited to create their "perfect street" by the materials we provided: a fictive street, photos of situations, buildings, infrastructure and places to be added, glue, a pen and a pair of scissors.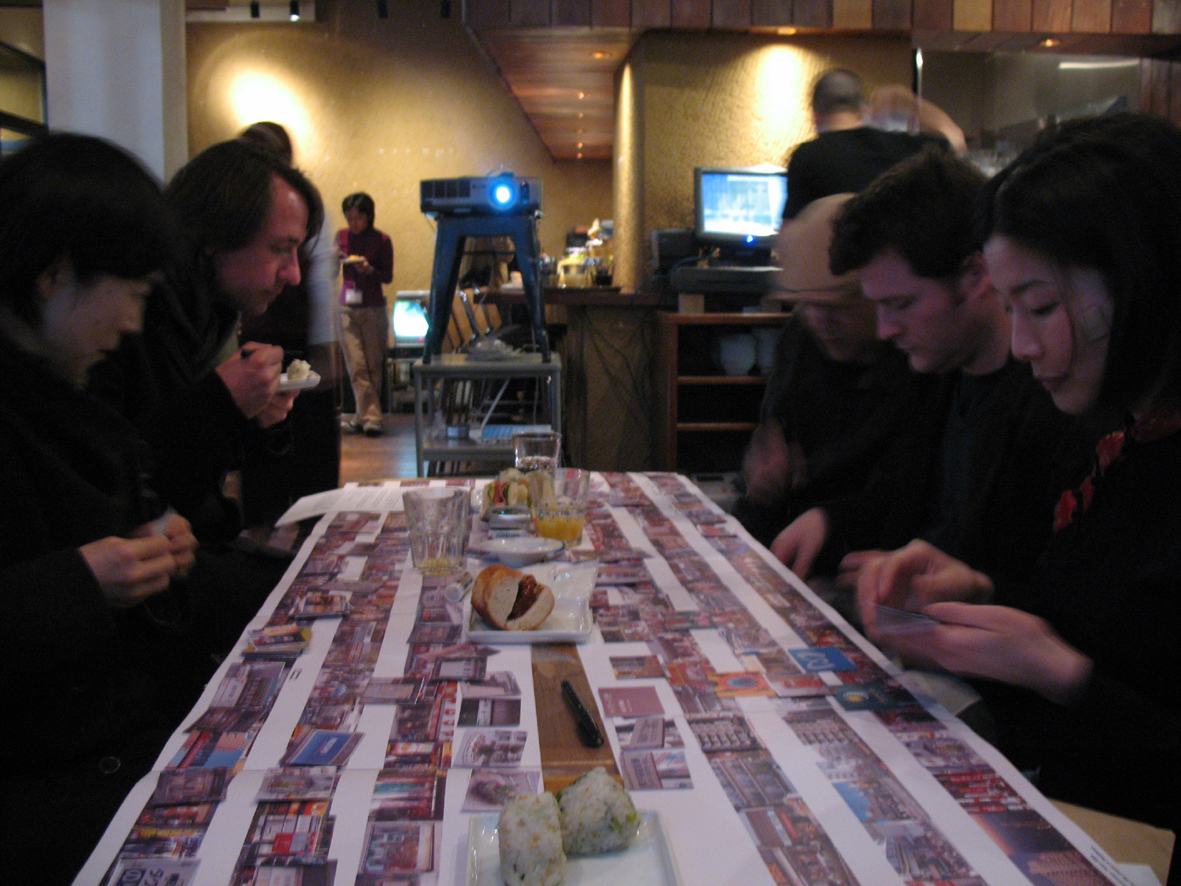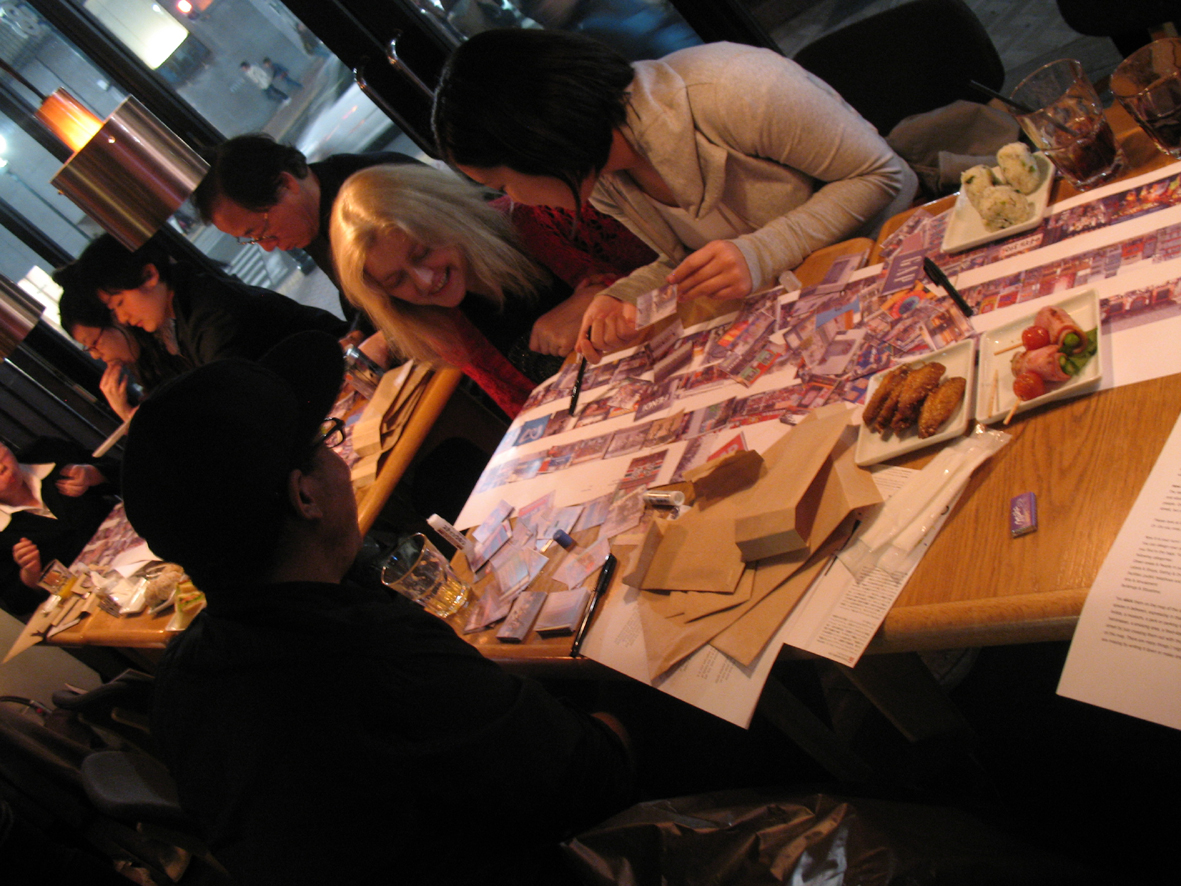 ************************************************
SAMSTAG / SATURDAY 1999 - 2001: ART IN PUBLIC SPACE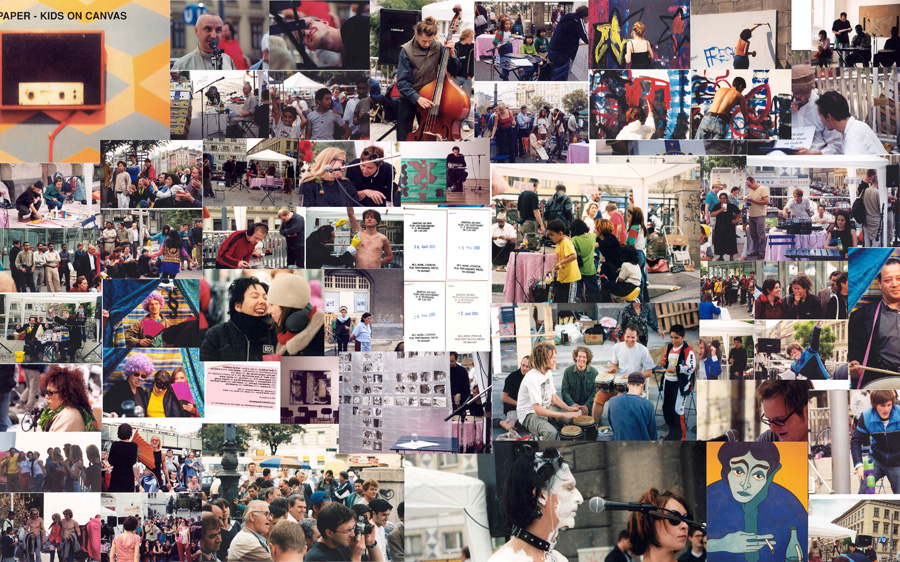 A mobile centre at the periphery of Saturday´s flea and fruit market in Vienna
Samstag/Saturday started in spring 1999. It followed an idea we had imported from the streets of South-America, something new in Vienna in those times. The concept was to give young writers, painters, actors, musicians, DJs, photographers, filmmakers and designers a platform for their works in public space. We organized and curated these afternoons: We invited the artists, prepared them to meet the agents and conditions of the very special public space. The place we had chosen was located at the edge of the official Saturday market at Kettenbrückengasse, it was very informal, near the exit/entrance of a metro-station, surrounded by the so called black marketeers and an again and again returning police.
Our most intense interaction though we had with our neighbours: the marketers, who sold their goods without permission and stand. There was an old Viennese lady offering her old shoes and coats besides Roma- and Sinti-families, who sold used kitchen facilities and books. When we started to construct our set up an open party-tent, technical equipment and the artist´s works, we also started the initially quite difficult discourse about the question, who the owner of public space is. We had an official permission to be there, the marketeers the better argument, namely survival. Even if we didn´t make friends with all of them, we finally were accepted. The best case was to enter symbiosis in order to use the temporary space according to the necessities of all, to build alliances against the norm.
If you walk on Saturdays over the today empty and clean place you will get the feeling that It longs for densification. Like many public spaces it is not a centre anymore. It turned into a place to walk on by, not to stay.
Participating artists in alphabetic order:
Hawy Abdel-Rahman, Gerald Anetzhuber, Mario Aschauer, Xaver Baier, Fady Barcha, Ken-neth Barkern, Alexandru Bilc, Jay B. Cool, Peter Danzinger, DJ dent, Paul Divjak, Thomas Eglseer, DJ Elk, Onno ennoson, Christian Fackler, Jürgen Friedl, Doris Fries, Gudrun Fürlinger, Manuel Gartlehner, Martina Gasser, DJ Gazarolli, Tom Grunert, Astrid Hafner, Erwin Hafner, Frank Hagen, Elmar Hanke, Manfred Friedrich Hofer, Die Herren Juhann und Jod, Gerhard Kaufmann, Josef Kleindienst, Edith Kneifl, Michael G. Kraft, DJ Krameritsch, Grace Marta Latigo, Jakob Lediger, Christian Loidl, DJ madMoiselles, Nina Maron, DJ marritime, Michael Menedetter, MyQuh, Herr Nagl, Christina Nemec, Helmut Neundlinger, Martha Novy, Charles Ofoedu, Fritz Ostermayer, Pennylane & DJ y, Julia Pernold, Veronika Pöcksteiner, Susanna Poulicek, DJ Punch, Faek Rasul, Hosea Ratschiller, Sieglinde Reichhardt, Elisabeth Remmers, rudi*lenz, Papp Sandor, DJ say dog, Susanne Scheubmayr, Lukas Tagwerker, Otto Tremetzberger, Georg Wagner, Manfred Weihs.
Technician: Franz Ahammer. Sponsored by Frucade. Samstag series II: Supported by the local district office.

Further events:

Winter home-base 1999/2000: galerie station 3/gallery station 3, Mariahilferstrasse, 1070 Vienna
Finnisage of the summer-series I: Schikaneder, November 13, 1999
Finnisage of the winter-series, wienstation, June 12, 2000, in cooperation with Orange 94.0, the independent radio in Vienna
Exhibition at Gallery Mouratti, 1010 Vienna, January 18 until February 17, 2001
Finnisage of the summer-series II, VEKKS, December 1, 2001