Saturday, September 25, 2010, 11.00 a.m.- 2.00 p.m.


THIS IS WHAT WE DO, TOO ...




with Angélica Castelló

(Concert in the snack bar "Hello Vietnam")

, Manuel Knapp

(Concert in the Saturday´s home base)

, Creative group of the "Beratung am Eck"

(Exhibition in the fruit and vegetable store Ashraf Zayed)

, Franziska Mayerhofer

(lecture in the snack bar "Hello Vietnam")

, Pepita/Energy centre for body and mind

(massages and consulting in the supermarket Kayabash)

, The Tulips

(Concert in public space)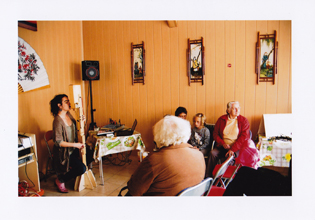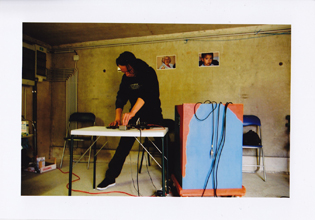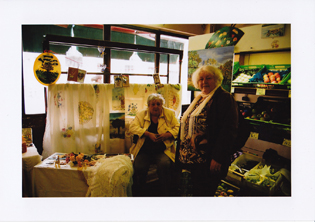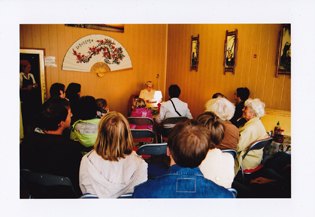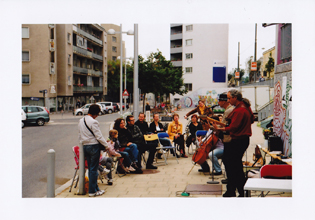 They know each other by sight, sometimes they are on nodding terms. Maybe one knows what the other is doing for living or where she or he lives. Little do we know about the talents our neighbours have. We do not know about the instruments they play, if they love to sing, to paint pictures or to develop pictures at home. Which rare vegetables they harvest, how many colours the socks have they knit and how often and well they are telling stories.
This Saturdy we invited all neighbours to enter the stage of the Schwendermarket and bring along their violines and guitares, to raise their voices, to perform their passions.



Saturday, September 18, 2010, 11.00 a.m. - 4.00 p.m.




HELLO VIETNAM!


Since March 2010 the Vietnamese snack bar "Hello Vietnam" enriches the culinary heterogeinity at the Schwendermarket. This Saturday

Trang Dang

and her husband

Georg Mikosch

served "Fried Yellow Vietnamese noodles with Asian Vegetable" and chicken rice soup at a long table, accompanied by Vietnamese music and stories about the country, where they bumped into each other more than 15 years ago.

Snack bar Hello Vietnam
Schwendermarket 10-12, 1150 Vienna
Mo-Sa, 11.00 a.m. - 9.00 p.m.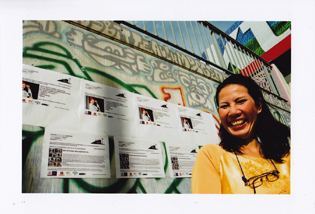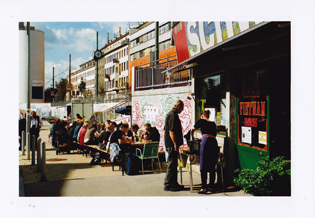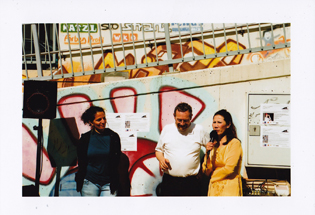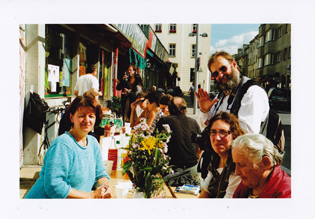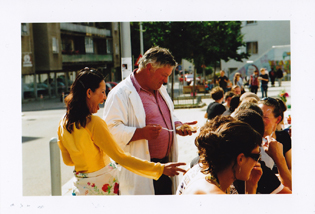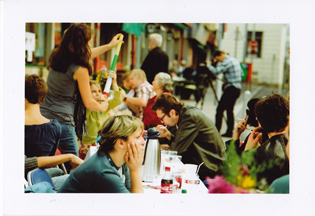 Saturday, September 11, 2010, 11.00 a.m.
Meeting point
Church "Maria vom Siege"
WALKING RELIGIONS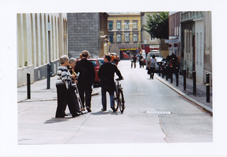 In cooperation with Gebietsbetreuung_Stadterneuerung 14/15
Between September 9 and September 11, 2010, three religious ceremonies were celebrated: the Jewish New Year, the Islamic fast-breaking and the Hindu ceremony for Ganesh. This was reason enough to organize a walking tour to get to know religious places, houses of prayers and cultural institutions in the neighbourhood of the Schwendermarket.



Programme:


11.00 a.m.: Church "Maria vom Siege", Mariahilfergürtel, 1150 Vienna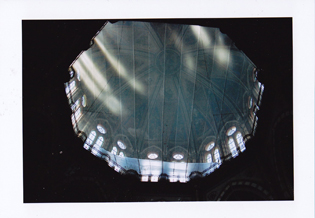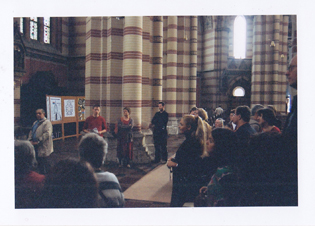 11.30 a.m.: Memorial project "Turnertemple" (once Synagoge), Corner Dingelstedtgasse/Turnergasse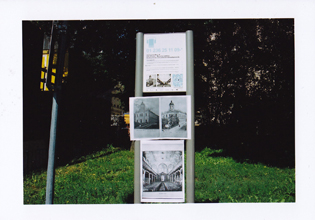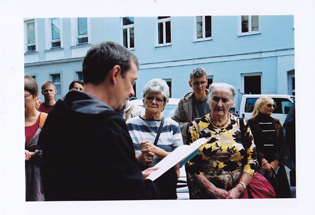 Noon: Islamic kindergarden and house of prayer, Kauerhof - Diefenbachgasse 10-12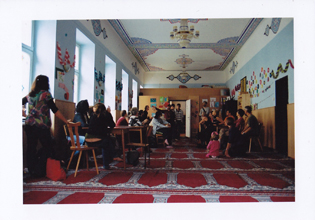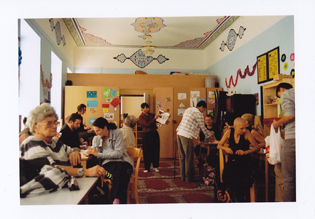 12.30 p.m.: Buddhist Centre "Fo-Guang-Shan-Tempel", Sechshauser Straße 50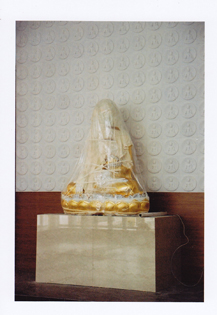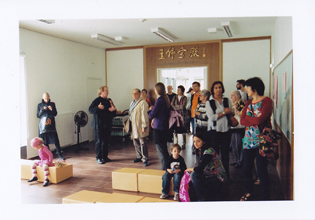 1-2 p.m.: Closing discussion and buffet. Moderation: Jeannette Müller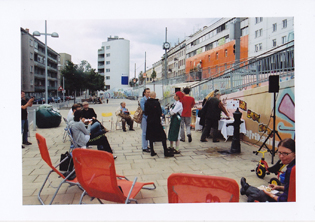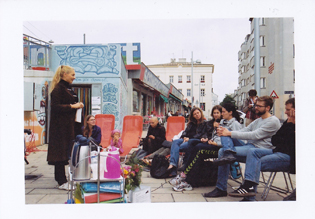 Forward the flyer


******************************


Opening at the Schwendermarket: Saturday, September 4, 2010, 11.00 a.m.




THE LUST FOR STORYTELLING AND THE FUN OF RECYCLING

.

By elderly people, for children and everyone else.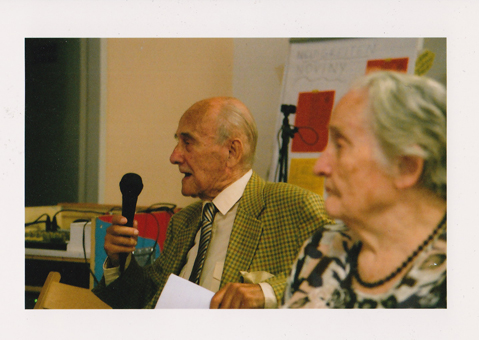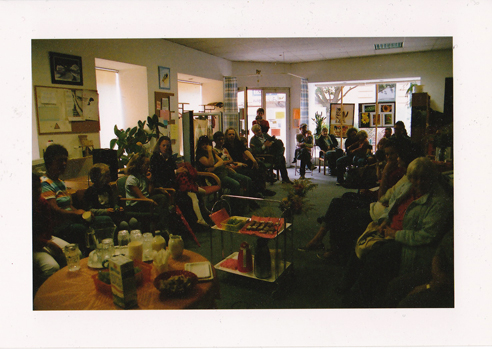 Senior citizens and the last remaining marketer, Johann Wötzl, are telling stories of the neighbourhood and the market: how it changed, what they miss. Moderation by th journalist and theatre author

Kurt Pollack

. In cooperation with Beratung am Eck

.




Johann Wötzl

is farmer and since 1981 selling his seasonal produces at the Schwendermarkt: Fruits and vegetables, flowers, wine and wonderful cakes.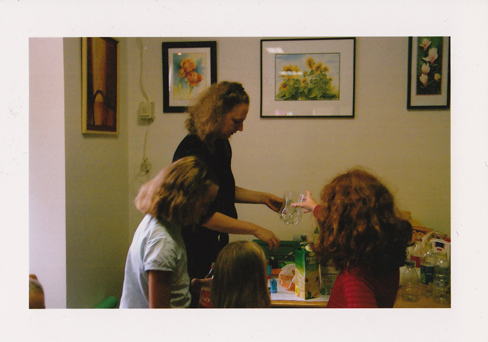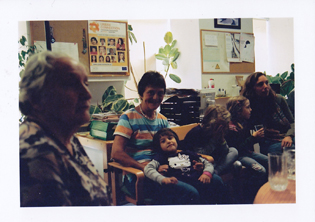 Meanwhile Regina Lustig showed children and adults what creative things to do with plastic bottles and other recycling material.